Husmann is well known for over 50 years in the field of recycling by its reliability, quality and competence. Our experiences result in solutions that meet the customer's requirements and they also prove our claim to be one of the leading addresses in the market of crushing machines by our innnovative technology as well as our wide product range.
Wood chipper and crushing machines are developed from practice to be utilised daily under any given condition. Maintenance and service-friendly setup are further characteristics of Husmann's crushing technology.
The latest experiences from daily routine influence our constructions, providing a great benefit to our customers.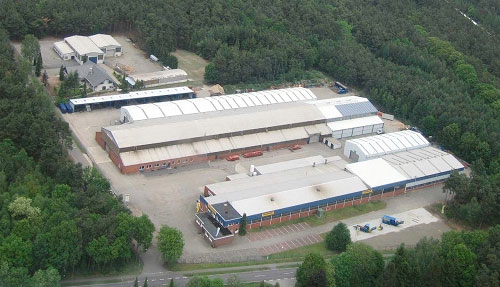 Foto from Husmann site, Lathen
Crushing machines from Husmann are separated by their specific techniques
Cutting - Slashing - Fractioning
all utilised in both municipal areas and industry.
In the matter of cutting technique wood chipper are being applied. They are equipped with a cutter disc and hardened cutters which are firmly mounted. The crushing good is supplied by a controlled, hydraulically driven roller to the cutters. The crushing good needs to be free from any contaminants like metal, stones and soil. Otherwise abrasion or destruction of the cutter is most likely to happen.
The very fine crushed material (10 to 20 mm) is used as grit in parks or for combustion in heating facilities. It is less applicable for composting due to longer terms of decompositon of the crushed good. Area of application: Reduction of volume, combustors, forestry
Smashing technique in the field of composting requires the use of machines with high speed rotors fitted with sledgehammers from Husmann's shredder HFG type series. Size and specification of these machines vary in the material which is to be processed. Wood up to a thickness of 500 mm and materials to compost may contain impurities such as stones, soil and small pieces of metal.
The sledgehammers smash and fibre the goods (to a piece size of 5 to 15 cm) making it extraordinary useful for composting. Both the infeed hopper and the conveyor belt of 1,500 mm width and 4,000 mm length are well suited for mechanical charging. It is possible to machine up to 200 m3 of waste from bushes and woods.
Nowadays the use of machines like these on common composting and recycling yards is taken for granted.
Fractioning technique, applied by crusher HL type series has been developed to crush even harder materials such as waste timber, wood waste with metal parts and remains of concrete from construction sites, bulky waste, residual waste or even industrial waste.
The slow speed (20 – 40 r.p.m.) crushing shafts are powered hydraulically, they are wear resistant and cause only little dust and noise.
The crusher is also used as a pre-crusher. At a size of 10 to 30 cm, the crushed materials will be transported underneath the crushing shafts on a discharge conveyor, where a magnetic separator can pull metal parts off the waste. The significant reduction of volume and the optimal consolidation on landfill sites proves the diversity of these machines.
| | | |
| --- | --- | --- |
| | | |
| Wood chipper Η 6 Μ | Shredder HFG VI | Crusher HL II 1622 |