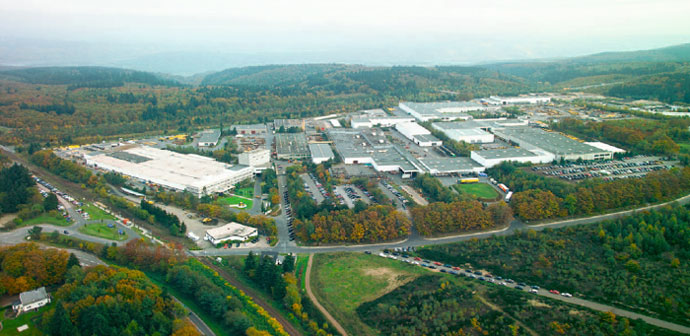 A portrait of the world's famous compaction company
1957 The BOPPARDER MASCHINENBAU GESELLSCHAFT MBH was founded in Boppard for the manufacture of the world's first BW 60 double vibratory roller with all drum drive. A revolution in compaction technology had started.
1962 Launch of the world's first 7 tonnes double vibratory roller: model BW 200.
1961 - 2002 Formation of overseas subsidiary companies:
1961 BOMAG Austria
1967 BOMAG (Great Britain)
1968 BOMAG Nippon BOMAG and BOMAG Canada
1970 BOMAG USA
1978 BOMAG France
2000 BOMAG Italia
2002 BOMAG China
1969 Factory relocation to today's site at Hellerwald Industriegebiet.
1970 Acquisition of BOMAG by Koehring Company, Milwaukee, U.S.A.
1976 Plant expansion with addition of new R&D Centre.
1982 Plant expansion by 7,000 m2 for machining and fabrication.
1986 / 1987 Plant expansion by 10,000 m2 for heavy product assembly, testing and painting.
1997 40th Anniversary of founding of BOMAG Plant expansion with addition of new powder coating shop.
1998 New demonstration area added plus communications complex.
1999 Additional 9,000 m2 light equipment assembly, warehouse and electronics installation.
2000 New Visitor Centre and Despatch facilities.
2001 Introduction of the ASPHALT-MANAGER, the only system in the world for optimal compaction with compaction control on asphalt.
2002 Foundation of BOMAG China in Fengxian, south of Shanghai.
2003 Start-up powdercoating and spraypainting plant for large machine parts. Introduction of the polygonal drum – compaction economy was thus redefined.
2004 On the occasion of the BAUMA Fair BOMAG started a product campaign (60% new!) and, among others, presented the latest GPS-supported measuring technology.
2005 Take-over of BOMAG by FAYAT, a highly successful French company.
2006 Sales of finisher and cold milling machines.
The BOMAG plant in numbers
252.000 m2 total site area
approx. 65.000 m2 under roof.
BOMAG in numbers
– 4 Manufacturing Plants in Boppard / Germany, Kewanee, Illinois / U.S.A., Fengxian / China,  Alfonsine / Italie
– Joint Ventures and Licence Agreements worldwide
– 17 product groups, various options
– Approx. 1,800 employees worldwide, Approx. 1,100 employees located in Boppard
Worldwide Sales and Service Organisation
– 6 branches in Germany
– 11 foreign subsidiaries
– dealers in over 120 countries
– Parts backup:  45,000 items more than 95% availability on-line customer ordering
Service Worldwide
As the world leader in compaction technology we offer you the biggest choice of compaction solutions and a global dealer network providing local parts and service support.
Wherever your business takes you, we'll be there.
The plant BOMAG BOPPARD
| | |
| --- | --- |
| | Fabrication / Machining / Painting |
| | Assembly / Testing / Painting |
| | Stores / Distribution / Dispatch |
| | Offices / R & D / Maintenance, etc. |
| | Parts and Service |
| | Cabin Manufacturing |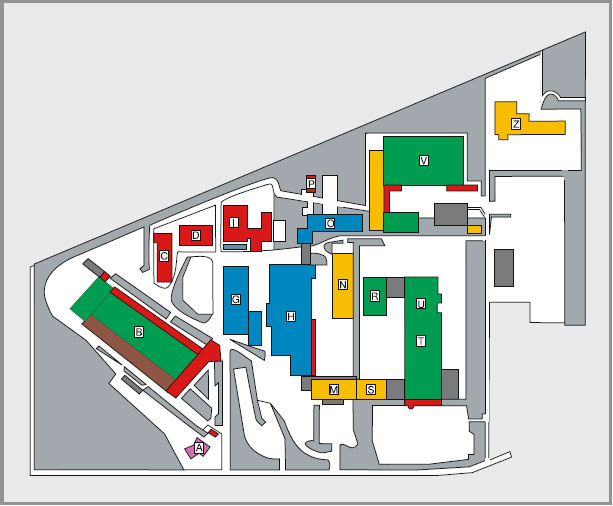 A - Customer Service
B - Management and Administration
C - Apprentice Centre
D - Customer Training School
G - Drum Shop
H - Fabrication / Machining / Painting
I -  R&D
M - Distribution Centre
N - Steel Stores
O - Powder Coating
P - Testing
R - Assembly: Heavy Products
S - Production Parts Stores
T - Assembly / Testing / Heavy Product Painting
U - Spray Painting of Heavy Equipment
V - Light Equipment Assembly / Electronic Assembly
Z - Shipping